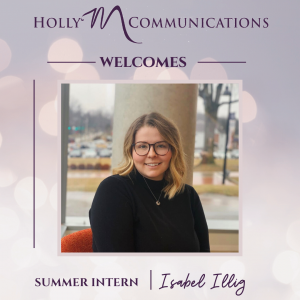 By Isabel Illig
You did it! You graduated college (or picked a new career path)! This is not the time to be idle and hope you are what employers are looking for. Employers appreciate employees who are committed to self improvement because it shows dedication in being their best selves: personally and professionally. This time is a great opportunity to prepare yourself for what the future holds. 
These are 6 ways to get ready for your public relations career:
Webinars
There are plenty of free resources online, especially since so many events have recently  become virtual. I recently attended a webinar hosted by PR News regarding diversity, equity and inclusion (DEI). They spoke about why it needs to be a part of every business and explained the important role DEI plays in meeting business objectives.
Online certifications
Websites like LinkedIn, Google, HubSpot and CodeAcademy have free certification courses ranging anywhere from marketing to coding. Certifications fit right into your resume and show your tenacity for expanding your skills.
Seek new experiences 
Running your own blog, writing articles as a freelancer and offering your services pro bono are all fantastic ways to experience new opportunities. Aside from keeping your skills sharp, each of these can be leveraged either on your resume or in interviews with potential employees and can expand your professional network.
4.Update resume and cover letter
Renewing your resume monthly keeps it up-to-date and easier to share with a connection or recruiter. It is best to have a professional you trust review it and give you helpful feedback. Creating a unique, but simple look is the best style for a resume. Better yet, matching your cover letter to your resume helps to make a connection between the two and may help you to get noticed. Having a cover letter template will make it easier to apply, but make sure to tailor it to each position utilizing key words written in the job description.
Organize a portfolio of project samples
It is helpful to have a collection of work samples prepared to show a connection or interviewer to successfully portray your skills. A portfolio can be in a printed format or shown via a link online. Websites like WordPress and Wix are great hosts for these kinds of sites. You should also utilize LinkedIn to publish original works, as well as share work you have created for others. You never know who could see it.
Perfect your elevator pitch 
Forbes suggests keeping several versions of your elevator pitch, depending on who you are pitching yourself to and how much time you have. Crafting a solid and confident pitch means you need to know exactly who you are and what you stand for. Pick a personal anecdote to include that explains who you are as a person. I use a memory that demonstrates both my commitment to sustainability and my love for communications. It gives the interviewer something to remember and identify you by. It is also important to highlight your value and uniqueness, and tell them what you can do for them. Lastly, have a hook. End your pitch with – or follow up with – a question. It helps to facilitate a conversation after you put it all out there.
I hope these tips will help at least one person land a job they love after graduation. And with that, I would love to congratulate the Kent State Class of 2020 (summer and fall graduates included)!