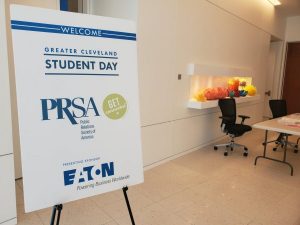 The Public Relations Society of America (PRSA) hosted their annual Student Day at Eaton Corporation on Nov. 15, where students from several universities could first hand advice from professionals in the field.
This year's event included the two panels "Things I Didn't Learn in College" and "My First Job," followed by a resume review session and the "Navigating a Multigenerational Workplace" luncheon.
The second panel involved Blue Star Design's Social Media and Content Traffic Manager Nicole Blair; Jill Deitweiler, a recruiter for F&C Executive Search and Recruiting; and Holly Mueller, owner of Holly M Communications.
This panel especially impacted attending UA students, who say they were inspired by one panelist in particular.
Junior Adeline Martin, a strategic and organizational communication major said that meeting Mueller made a huge impact due to her background in PR.
"After hearing her story it is clear that there is not a clear cut path to take to be able to achieve excellence and the first job someone lands does not have to be a dream job," Martin said.
Mueller discussed the story of her career, which involved many experiences in the industry across the country, from working with the U.S. Army in Kansas to overseeing the PR department for an advertising agency.
Senior Unique Haugabook, a public relations major, said she was inspired as a soon-to-be college graduate by Mueller's journey to owning her own business."I feel more confident about the path I am currently taking since all of the professionals I spoke to on Friday told me I was doing everything right," Haugabook said.
By Kaitee Horstmann
Read the full article," UA Students Network With Professionals at PRSA Student Day 2019″